Autodromo Enzo e Dino Ferrari, Imola, Italy
After a two-week gap following the first race, F1 kicks off the European stint of its bumper season with what promises to be a very wet and chilly weekend at Imola.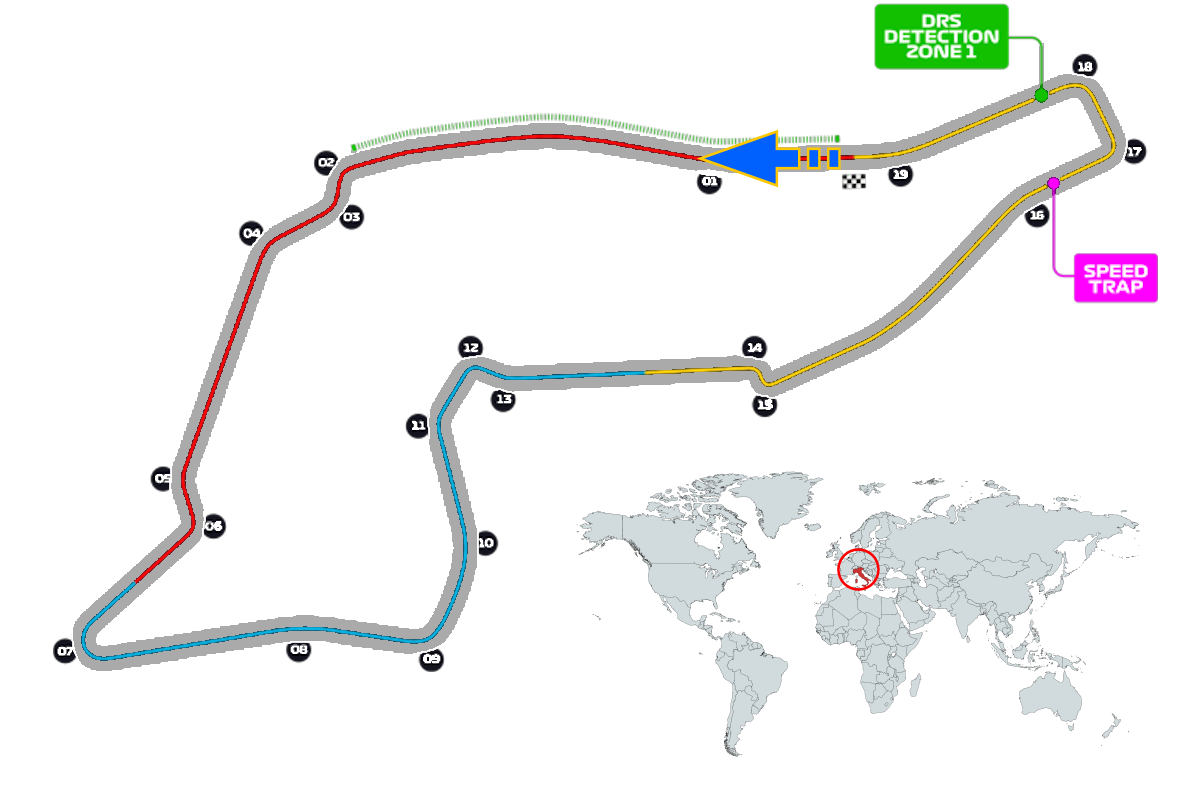 Like neighbouring Mugello, Imola is nestled in a fantastic part of the world, with the Tuscan hills to the south, the Adriatic beaches to the east and the gastronomic delights of cities like Bologna, Parma and Modena to the west — as well as the F1 mecca that is Ferrari's HQ in nearby Maranello.
There's also no getting around the fact that a visit to Imola is an opportunity for F1 fans to pay their respects to Ayrton Senna and Roland Ratzenberger, who lost their lives at the 1994 San Marino Grand Prix.
The circuit of Imola was used for the last time in Formula 1 in 2006, when it was still going through life as the Grand Prix of San Marino. The Italian Grand Prix name was already in use, just like this year, so Imola had to choose a different Grand Prix name. That has become Emilia Romagna, the region where Imola is located in Italy
The anticlockwise lap starts with the drivers hard on the power, passing the merest of kinks that is labelled on the map as Turn 1 flat out, heading towards the entrance of the TamburelloTurns 2 & 3 chicane. After shedding speed and dropping down the gears, the cars are back hard on the power again through Turn 4 on the run up to VilleneuveTurns 5 & 6, a fast chicane that many would say has been completely destroyed by the safety "improvements" of recent years.
A short spurt back onto the power on the approach to the tight TosaTurn 7 hairpin. The cars slide quite a lot on the exit as they try to get the power down hard on the run up the hill. At the crest of the hill there is a quick flick right through an un-numbered kink at full speed before the drivers have to scrub off some speed for the entry of the medium left hand PiratellaTurn 8.
After this is a short downhill section before the Acque MineraliTurns 9 & 10 complex. Once again, the drivers have to get on the power as soon as possible for the short, but relatively steep climb to the Variante AltaTurns 11 & 12, a tricky chicane with very slippery curbs on the exit.
Yet again, it is hard on the power, for a very fast downhill right hand kink at Turn 13, passing under the bridge then hard on the brakes for the deceptively slow RivazzaTurns 14 & 15 section, and then back on the power as the drivers speed towards the end of the lap.
The cars again scrub about half of their speed for the entrance to Variante BassaTurn 16 and the final corner, TraguardoTurn 17, before its pedal-to-the-metal for the next lap.
| | | |
| --- | --- | --- |
| Predicted weather for the race: | | 14°C |
Dry Tyre Compounds
Cinturato Wet Tyres
Hard × 2
Medium × 3
Soft × 8
Intermediate × 4
Full Wet × 3

C2 (harder)

C3 (midrange)

C4 (softer)